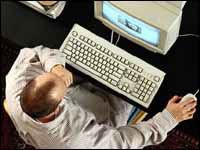 Offering "Docutech" Digital Print-On-Demand, along with In-House Index Tab production and binding, we utilize the most current technology in our industry. Our state-of-the-art equipment allows us to provide our clients with high-quality products faster and less-expensively.
We realize that most people could care less about what models of equipment we use, so long as they receive what they ordered. Still, we can't help being proud of our toys. Once you see how great they make you look, we hope you'll be proud of them, too.
We can also insert up to 6 pieces in a #10 or 6"x9" envelope in our automated mailing department.
Your 1-Stop Center for Training & Education Materials
Digital Printing - up to 500,000 impressions per 24 hours; color also available
2 and 3 Color Offset Printing & B&W & Color Digital Printing
In-House Finishing & Binding, - Mylar laminated IndexTabs
Scott 10,000 Index Tab Laminator & Die Cutter

We can die-cut and Mylar laminate up to 10,000 index tab dividers per hour in either clear or colored(20) Mylar, or we can produce them without Mylar for you to print in your in-house copiers.